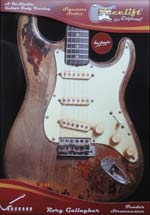 click image to expand
Stratocaster - Rory Gallagher



Facelift has added Rory Gallagher's iconic 61 sunburst Fender Stratocaster to its signature series.
We've been looking for a worn, distressed guitar image for our Stratocaster range for a while now, says Mike Hrano or Rockano Productions, which produces Facelift, and they don't come more played-out and rocked than Rory's legendary instrument. It's a great honour for us to be associated with Rory and to have worked with his brother, Donal, and Donal's son, Daniel, to make this happen. The result is that Rory's Facelift will relic any guitar in an instant, without being permanent.

Rockano used photographs of Gallagher's Strat to create the 'Rory Facelift', which joins the 'No.1 Telecasters' used by both Francis Rossi and Rick Parfitt of Status Quo in the 'Signature Series'

For a while during the '70s, Quo and Rory shared management and we toured together in America, so we knew each other well, says Parfitt, Facelift's inventor and co-owner of Rockano. 'Rory was such a sweet man and an unbelievable musician with a guitar to match. I'm so pleased and proud that Facelift has been able to reproduce it and help to keep Rory's fantastic legacy alive.'

Commented Donal: 'The Facelift is a true image replication of Rory's prized instrument. Its weathered appearance was gained from blood, sweat, and tears during his constant touring of the globe. In fact, my brother was alarmed when first the paintwork on his guitar began to peel. He was at a loss as what to do, but then they didn't have Facelifts!